Assisted living can be a sensitive topic to bring up with a family member, as it can signify a major change in their living situation. However, having the conversation about assisted living can also be an opportunity to ensure your family member is healthy and safe.
As an assisted living provider in Boca Raton, Florida, we realize this can be a challenging conversation to have for the first time, but it is all about how you approach the topic that determines the outcome.
Our team at Sunscape™ Boca Raton is sharing tips on how to talk about assisted living with a family member to help ensure it goes smoothly.
Start the Conversation Early
It's important to begin the conversation about assisted living even before your family member needs additional support with their daily routine. Waiting until care is needed or an emergency situation arises will limit your options and can result in hasty and uninformed decisions.
Start by discussing your concerns with your family member and asking for their input on their own living situation. Encourage open and honest communication from the beginning. Doing so will help them feel like they have more control over their life as opposed to being forced into a move they do not necessarily want.
Frame the Conversation Positively
Assisted living can be viewed as a negative or scary concept, so you want to frame the conversation in a positive light. Instead of focusing on what your family member may be losing, emphasize the benefits of assisted living, such as increased socialization opportunities, added support with their daily routine, enhanced independence, and safety features. Talk about how assisted living can improve their overall wellness, not take away from it.
Be Prepared
Do your research and be prepared to answer any questions your family member may have. Familiarize yourself with different assisted living communities, the costs associated with each, and the services and programs provided. This will help you provide informed answers and alleviate any concerns your family member may have.
Listen to Your Family Member's Concerns
You need to listen to your family member's concerns and fears about assisted living but also acknowledge and validate their feelings. Try to find solutions to any issues they may have, such as finding an assisted living community close to their current home or easing their fear that this transition means giving up their independence when in fact, the opposite is true.
Involve Your Family Member in the Decision-Making Process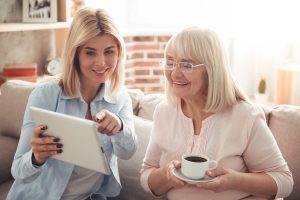 Your family member should be involved in the decision-making process as much as possible. Encourage them to ask questions and voice their concerns. Make sure they have a say in which assisted living community they choose and what services they receive.
Emphasize Safety and Well-Being
One of the primary reasons for considering assisted living is safety and well-being. Emphasize to your family member that you want them to be safe and well cared for.
Explain how assisted living can provide access to healthcare professionals and safety features such as emergency call systems in addition to all the other wellness benefits that making this move provides.
Be Patient and Empathetic
The decision to move into assisted living can be a difficult one, and your family member may need time to come to terms with the idea. Be patient and empathetic and recognize that it may take multiple conversations for them to be open to the idea. Respect their wishes and try to find a solution that works for everyone involved.
---
Having the conversation about assisted living with a family member can be a difficult one, but it is important to approach it with empathy, understanding, and positivity. The decision to move into an assisted living community is a deeply personal one, and the right time to make the transition is different for everyone. However, by approaching the conversation in the right way, you can help make this process go smoother for both you and your family member.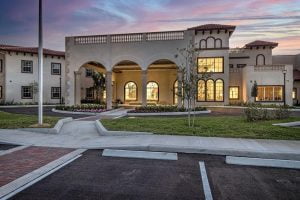 If you would like to learn more about our assisted living options in Boca Raton and how we can enhance your family member's overall wellness, we invite you to schedule a personalized tour of Sunscape Boca Raton!