More than a job, a fulfilling career in senior living.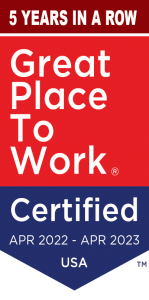 A career at Sunscape™ Boca Raton provides you with not just a job, but the opportunity to become a part of Solvere Living team. Are you a compassionate person with a love for providing outstanding customer service? Do you want to make a difference in the lives of others? Are you searching for a career where you are valued and respected?
Solvere Living MVP Program
We want to celebrate those that contribute to our Florida assisted living community by going above and beyond! The Solvere MVP — Mission Values Purpose — Program does just that. We want to acknowledge those that embody our core values and make a difference.
Solvere Living Receives Certification from Great Place to Work for Fourth Consecutive Year
Team members agree that their jobs hold special meaning, and they can make a difference at Solvere, and people feel welcomed when they join a Solvere community.
If this sounds like you, contact us today. Please click below to view job opportunities.