As you start your search for a Boca Raton senior living community, it's important to remember that not all communities are created equally.
Doing your research and coming prepared for a community tour can go a long way in helping you find the perfect community for yourself or someone you love. Our team at Sunscape™ Boca Raton is sharing some of the essential questions you should ask when visiting a Boca Raton senior living community!
1. What Support or Lifestyle Options are Available?
First and foremost, you want to ask about available lifestyle and care options. Whether you want additional support with daily tasks or someone you love is living with dementia and requires specialized care, it's important to know that the community can accommodate these needs.
You can usually find general information on a community's website, but during your visit, you can get a more detailed idea of what each lifestyle option entails.
At Sunscape Boca Raton, we offer personalized assisted living and memory care options designed to help individuals thrive.
2. What Amenities and Programs are Offered?
Senior living communities vary greatly in the amenities and programs they offer. Ask about the amenities and programs during your tour to ensure they align with your interests and preferences.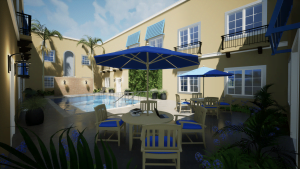 Our Boca Raton senior living community offers a unique approach to wellness that nurtures every side of you. Our amenities and programs help keep residents engaged, inspired, and active. Each day at Sunscape Boca Raton brings an opportunity to learn something new, meet new friends, and discover a new part of yourself.
3. What Are the Accommodations Like?
When touring a community, you're touring a potential home for yourself or your family, and it needs to feel that way. While the support options and community amenities are important elements of the Boca Raton senior living experience, the accommodations also need to fit your desired lifestyle.
During your tour, ask what floor plan options are available, if apartments come furnished or unfurnished, and if there are any limitations on how much you or your family member can personalize the apartment. For instance, if you have a favorite chair, can you bring it with you? Or, are you allowed to hang pictures or artwork on the walls? These minor details can make your or your family member's new apartment feel like home much faster.
4. What Meal and Dining Options Are Available?
How we fuel our bodies significantly impacts our health and wellness journey, but not everyone has the same taste or is on the same schedule. When you tour a Boca Raton senior living community, be sure to ask about the meals they serve and what dining options are available.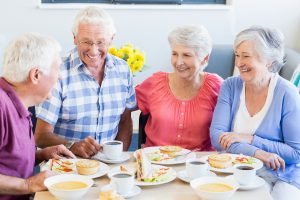 For example, inquire about how many meals per day are included in the monthly rate, if there are options for every meal or just one set dish, and if there are strict mealtimes or if the community offers anytime dining.
Sunscape Boca Raton proudly offers multiple dining venues throughout our community – and anytime dining options! Our menus are centered on the nutrition and balance that comes from a rich assortment of healthy, delicious foods that are sourced locally. Regardless of your dietary needs, tastes, and preferences, we offer more opportunities to savor every day by making every dining experience a delight.
5. Can I Speak to Current Residents or Families?
One of the best ways to get a feel for a community is to speak with current residents and families. During your tour, ask if it's possible to speak with current residents or family members to get their perspectives on the community. Hearing firsthand experiences can provide valuable insight into the community's culture and quality of care.
---
Touring a Boca Raton senior living community helps you narrow your search to find your future home – and asking the right questions can help you get the most out of your visit!
We invite you to schedule a tour of our beautiful community and experience firsthand the warmth, comfort, and high-end amenities that make Sunscape Boca Raton the best option for senior living in Boca Raton, Florida!