Building and maintaining a circle of friends in senior living is essential for leading a fulfilling and enriching life. As we age, social connections become increasingly vital for our mental, emotional, and physical well-being. Boca Raton senior living communities offer a unique opportunity to meet peers, share experiences, and create lasting friendships. Still, it can be daunting to form new connections if you have just made the transition into a community.
Our team at Sunscape™ Boca Raton is here to help by sharing tips on how to build your circle of friends in senior living.
Be Open and Approachable
Approachability is key to building friendships. Smile, make eye contact, and greet your neighbors and fellow residents warmly. Be open to conversations and be a good listener. This can make others feel comfortable around you and encourage them to initiate conversations.
Participate in Engagement Programs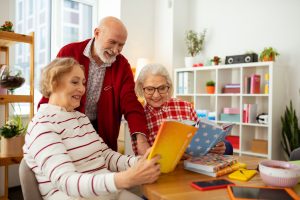 Most senior living communities offer a wide range of programs designed to cater to various interests and hobbies. Whether you enjoy arts and crafts, gardening, fitness classes, or book clubs, participating in these programs can provide excellent opportunities to meet people who share your interests.
Join Clubs and Groups
Many senior living communities have clubs and interest groups that cater to specific hobbies or passions. These clubs often cover a wide range of hobbies, from card games and cooking clubs to gardening and photography. Joining such groups is an excellent way to meet people with similar interests.
Volunteer
Volunteering within your senior living community is a wonderful way to connect with others who have a similar commitment to giving back. Whether helping organize events, assisting with community projects, or participating in charitable initiatives, volunteering allows you to bond with people who share your values and is another way to form connections.
Take Advantage of Mealtimes
Meals provide an excellent opportunity for socializing. Make an effort to attend communal dining events regularly. Sit with different people each time to diversify your interactions and increase your chances of making new friends.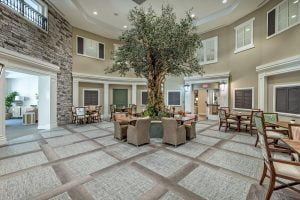 At Sunscape Boca Raton, we believe that dining is about the experience as much as about food. We offer multiple dining venues throughout our community and strive to make each meal one to remember. Regardless of your needs, tastes, and preferences, our Boca Raton senior living community offers more opportunities to savor every day by making every dining experience a delight.
Use Common Areas
Common areas such as lounges, libraries, and game rooms are gathering spots for residents. Spend time in these areas, strike up conversations, and engage with others who share your interests.
Even by simply spending time reading in the community's library, you are more likely to make a connection than if you are reading alone in your apartment.
Stay Active and Healthy
Regular physical activity is essential for maintaining your overall well-being, and it can also help you meet new friends. Participate in fitness classes, group walks, or other exercise programs available in your senior living community. Staying healthy can also make you more approachable and help you be more energetic.
Attend Special Events
Senior living communities often host special events and parties for holidays, birthdays, and other occasions. Make an effort to attend these events, as they provide a festive atmosphere where you can interact with a variety of residents.
Be Patient and Persistent
Building friendships takes time; not every initial interaction will result in a deep connection. Be patient and persistent in your efforts to meet people and nurture relationships. Building a circle of friends is a gradual process, and it is important not to get discouraged by setbacks.
---
Building a circle of friends in senior living is an ongoing and rewarding process that can significantly enhance your experience in your new community. Remember that it is never too late to form new connections and create meaningful relationships. By embracing the opportunities in your Boca Raton senior living community and following your interests, you can cultivate a vibrant social life that brings joy, companionship, and a sense of belonging to your senior living experience.
Visit our website to schedule a tour and start building your circle of friends at Sunscape Boca Raton!